13 OF OUR FAVORITE FITNESS TRACKERS
Way more powerful than those little bands that only counted steps and calories, the latest activity trackers have tools and features that are way more relevant to cyclists. Prices range from under $100 for a basic watch that can track your workouts, like the Fitbit Alta, all the way up to sophisticated smart watches that are packed with features like precise GPS monitoring and route mapping. Here's how to decide which one fits your needs, and our picks for the best ones available right now.
Fitness Trackers vs Smart Watches
The first step many of us need to take is deciding whether we're best served by a fitness tracker, a more robust smart watch, or even a dedicated GPS Unit. Fitness trackers, generally, are the most basic of the bunch. They are great for people who want to monitor their daily activity and health, recording data like calories burned, hours slept, and heart rate. Most will also include activity-specific metrics, like miles ridden or run. As price increases you get more accurate recording, bluetooth connectivity, and features like auto start and stop that allow the tracker to begin tracking an activity as soon as you begin moving so you never miss a workout. Some now include GPS capabilities, wireless pay options, and voice and text notifications, blurring the lines between fitness trackers and smart watches.
Smart watches typically add features and connectivity to basic activity tracking. Options like the Apple Watch and Samsung Galaxy give you music streaming, cellular service so you can take calls, and robust GPS recording. Full on GPS watches, like the Garmin Fenix give you better battery life while using GPS, excellent waterproofing, and sophisticated route mapping features like you'd find on a bar-mounted GPS unit.
Battery Life Is Key
For cyclists, one of the key differences between fitness trackers is the battery life. Some companies claim their trackers can go days between charges, but that performance can drop dramatically when you start actually tracking your workouts or use GPS. Think about how you plan to use your tracker, which features you'll use most, and how they will affect battery life.
Not All GPS Is the Same
GPS is becoming more common on even lower-cost fitness trackers, which is fantastic for cyclists. When looking at GPS functions, check to see whether it has basic GPS, or GPS with GLONASS. The latter is the Russian equivalent of GPS and doubles the number of satellites your watch can communicate with. That gives more accurate reading in shady, congested, or remote, areas, and more consistent tracking throughout the day (which can otherwise be affected by how satellites orbit). Some devises might also have access to Galileo, the EU satellite system that operates in the same fashion as GPS and GLONASS.
Music and Everything Else
One of the best reasons to own a fitness tracker is how convenient they can make accessing and playing music. To do it, most fitness trackers will need to connect to your phone. Some also provide access to services like Spotify, Pandora, or Apple Music. If you like to leave your phone at home when riding or cross-training, you'll want a device that allows you to download music to listen to untethered. If you want the full library of songs on the go, upgrade to a smart watch with cellular service. Increasingly more fitness trackers, like the soon-to-be released Fitbit Charge allow you to use your device to pay for mid-ride snacks using near-field communication (Apple Pay is a common . If that's important to you, look for watches and tracker with NFD payment options.
[Related: The Best Apps for Cyclists]
What's That About AFib?
Devices that can take ECG readings, like the Apple Watch 4 and the Withings Move ECG, are becoming popular and claim to aid in the prevention and monitoring of heart-rhythm disorders like Atrial Fibrillation, commonly known as AFib. While there may be instances where the ability to take ECG reading from your wrist can be beneficial, we spoke to several medical experts who had some concerns about the technology, its reliability, and possible instances of misdiagnoses. While the tech is exciting and potentially beneficial, the health professionals we talked to suggested consulting with your own doctor before relying too much on either watch's AFib feature.
GARMIN VIVOACTIVE 3 MUSIC VERIZON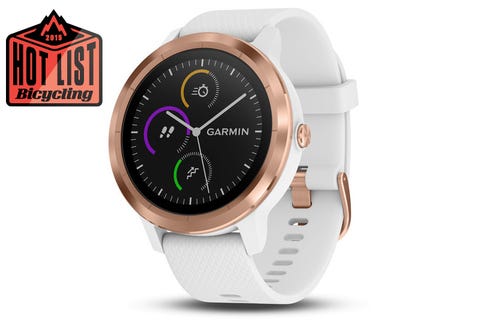 Price: $300
Battery: 5 days in smartwatch mode, up to 4 hours using GPS, Music, and 4G LTE
Data service lets you stay connected without bringing your phone.
This new watch from Garmin promises the connectivity of an Apple Watch or Samsung Galaxy for cyclists who want to stay in Garmin's ecosystem of products. It works on Verizon's 4G LTE network so you can leave your phone at home still make calls, receive texts, and stream music (premium accounts on Spotify, Iheartradio or Deezer required). Even if you're not a premium subscriber to a streaming service, you can still download and store up to 500 songs on the watch. If you're in an accident, Garmin's incident-detection feature will send your location to emergency contacts without being tethered to your phone. It's also Bluetooth, ANT+, and wifi-enabled. More than 15 preloaded sport apps give you plenty of options for tracking your activities, and it connects to GPS, GLONASS, and Galileo satellites to keep track of speed and location.
WITHINGS/NOKIA STEEL HR HYBRID WATCH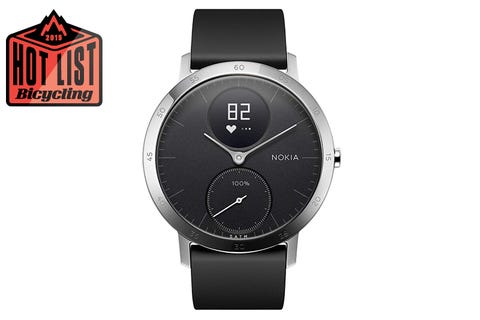 Price: $144
Battery: 25 days in smartwatch mode
Get updates on your workout stats from Alexa.
POLAR A370
This watch combines classic, analog styling with modern features. The Steel HR monitors all-day heart rate via optical sensors, and the sleep tracker monitors sleep stages to help you get a better rest (it even has a gently vibrating alarm that, when you set it, will wake you at the optimal stage in your sleep cycle). The Steel HR also has 24/7 activity tracking, automatically recognizes 10 activities, comes with 30 additional sport profiles pre-loaded. Take calls, receive texts, and get notifications when you pair it to your smartphone. This is a high-tech sports watch that still looks great in a formal setting.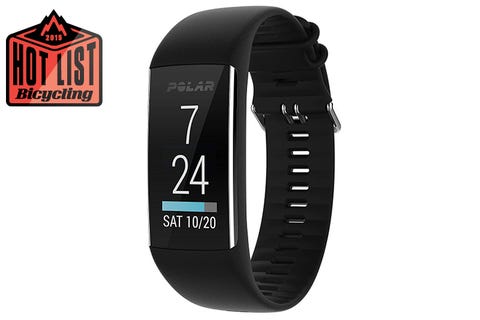 Price: $150
Battery: Up to 4 days
Broadcasts heart-rate data to compatible third-party apps.
The Polar A370 is a stripped down fit tracker for those who don't want to pay for all the bells and whistles. It measures continuous heart rate through an optical sensor, and when connected to third-party apps it can broadcast heart rate to them. It features assisted GPS, meaning it needs to be tethered to your phone to take advantage of the phone's GPS, and while tethered you can also receive smartphone notifications. If you're looking for a low-key fit tracker that handles the basics, this could be a good option.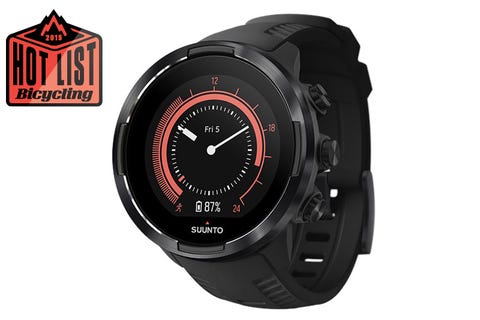 Price: $599
Battery: Up to 120 hours with GPS
Insanely long battery life
This feature-packed watch has an astounding battery life—up to 25 hours in Performance mode and up to 120 hours in Ultra mode. You get real-time notifications on remaining battery life, allowing you to change modes on the go so you don't run out of juice before the end of your double century. Optical sensors read heart rate, and you can connect a heart-rate strap for greater accuracy. If you want an extremely durable, take-no-prisoners heart-rate monitor that can do it all and do it all well, look no further than the Suunto 9.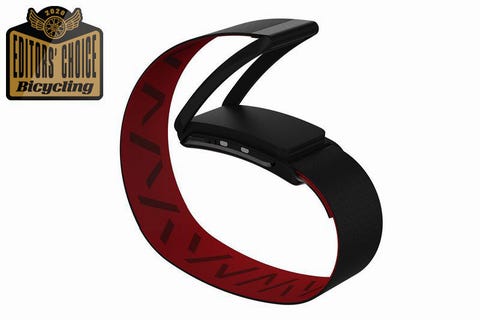 Price: $180 + $30 monthly subscription
Battery: 48 hours
On-the-go recharging so you don't have to take off the wrist band.
Made famous by Lawson Craddock who wore it in the Tour de France this summer, the Whoop band is an activity tracker for people who subscribe to the theory that what gets measured gets managed. The Whoop is not a watch, it's just a wrist band that measures and quantifies your sleep, stress, activity, and training load to help you better manage your training and maximize performance. A silicone-backed neoprene strap holds a sensor pod that measures heart rate, heart-rate variability, ambient temperature, and motion 100 times per second and uses that data to quantify and recommend daily recovery, strain, and sleep. For riders who obsessively measure everything they do on their bikes, Whoop measures everything off the bike to help you better manage your time on the bike.
APPLE WATCH 3 WITH GPS AND CELLULAR DATA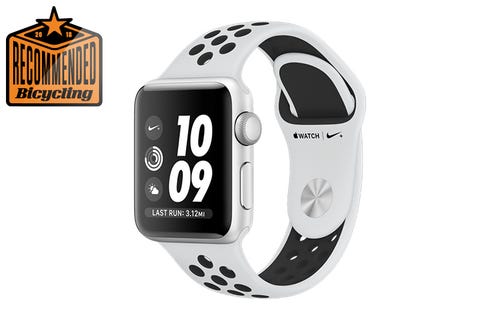 Price: $300
Battery: 5 hrs w/ with GPS, 3 hrs w/ with audio/GPS/LTE
Streams Apple Music via cellular data.
Yes, it's more smart watch than fitness tracker, but the Apple Watch Series 3 (and now Series 4) do so much that they deserve a hard look. It can very accurately measure speed, distance, and location by GPS/GLONASS and with help from its barometer can effectively measure altitude as well. Naturally it works with Apple Pay and Apple Music, and sleep and stress trackers are available as third-party apps. It measures heart rate through an optical sensor and can even pair to select brands and models of gym equipment to measure your indoor workouts. The new 4 Series delivers even longer battery life, a slimmer case, and will automatically notify first responders if you're in a crash.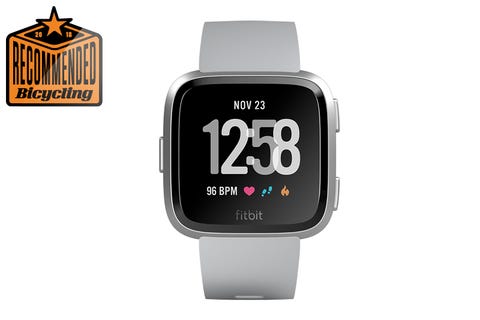 Price: $200
Battery: 4 days in smart watch mode
Personal, on-screen workouts based on your performance and feedback.
Featuring 15 exercise modes and personal on-screen workouts, the Fitbit Versa is a sport-oriented fitness tracker that looks good and performs just as well. Activity tracker functions measure daily movement, calories burned, steps, and floors climbed, as well as sleep cycles. It also features a female health tracker. When paired with a smartphone, you'll never miss a call, text, email, or social media notification, and you can also stream music through your phone or directly from the watch via Pandora (when connected to WiFi). The contactless pay function allows you to leave your cash and credit cards at home when you head out for a workout. This lightweight watch bears a lot of resemblance, both in form and function, to the Apple Watch, just at a lower price and without the cellular connectivity.
FITBIT IONIC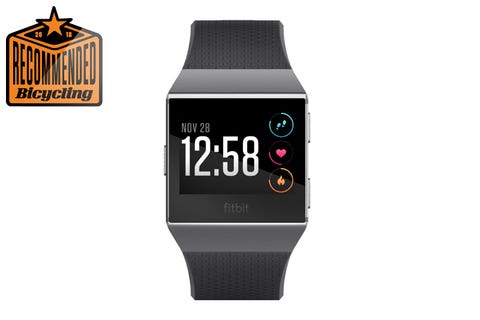 Price: $300 Battery: 5 days in smart watch mode
Stream your favorite music on Pandora-no phone needed.
Similar to the Fitbit Versa in size and features, the Ionic costs about $70 more but gives you on-board GPS in place of connected GPS—meaning you can listen to your favorite Pandora playlist without having to carry your phone. The sleek (though not as slim as the Versa) Ionic is simple and stylish, making it an everyday accessory that doesn't scream fitness tracker. It tracks steps, calories in and out, sleep patterns, heart rate, and more. Auto-exercise recognition and auto start/stop functions mean you can head out the door for a ride without having to remember to press buttons and change modes. Other features include: personalized workouts, a female health tracker, contactless payments, multisport modes, call and text notifications, reminder to get up and move, and popular apps like Starbucks and Strava. Bonuses: There are enough clock faces to choose from to have a different one every day for a year (at least), and the food tracker includes just about anything you plug into it.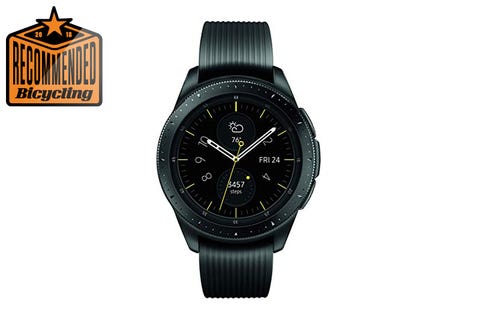 Price: $350 for 46mm, $330 for 42mm
Battery: 7 days for 46mm in smart watch mode, 5 days for 42mm in smart watch mode
Stream your music directly from the watch via Spotify.
Like the Apple Watch, this is a powerful smart watch at a reasonable price that's worth a hard look. It comes preloaded with 45 sport profiles for recording workouts, and the activity tracking functions keep tabs of not only your workouts but also your daily movements, calories burned, as well as sleep patterns. Naturally you can use Samsung Pay, and the watch features wireless connectivity for data access when untethered from your phone, including streaming music through your Spotify account. Add a data plan and take calls and texts from the convenience of your wrist.
GARMIN VIVOMOVE HR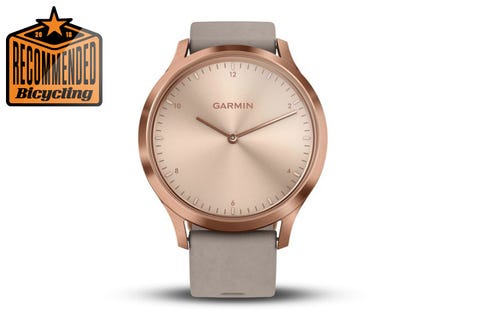 Price: $350 Battery: 2 weeks, 5 days in Smart Mode
Fashion-oriented design with analog hands and smart watch features.
The Vivomove HR gives you the look of an analog watch, complete with moving hands, and the functionality of a touchscreen smart watch. Turn your wrist to glance at your watch and activate the touch screen; the clock hands rotate out of the way and you have smart watch features at your fingertips. When you're done, the hands return to their normal position. Battery life is long enough (2 hours, claimed) that you can actually forget it needs to be charged from time to time, and you can connect your ANT+ heart rate strap if you want more accurate readings than the optical sensor provides. Take advantage of activity, stress, and sleep tracking capabilities to monitor and manage your physical activity and recovery, and take advantage of the Move IQ feature that automatically detects your activity and begins recording the workout for you—no need to manually start and stop your workout timer.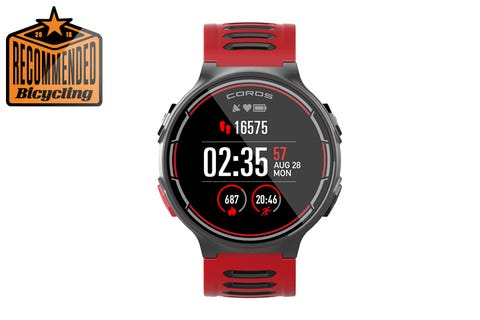 Price: $227
Battery: 30 days, 25 hours with GPS
Long-lasting battery and powerful metrics for the serious athlete
The Coros Pace is a high-level training tool designed with demanding users in mind. The watch features location services via GPS, GLONASS, and BDS satellites, an accelerometer, gyroscope, compass, barometric altimeter, and optical heart rate monitor to collect and analyze all the data you need both during your workout and after for analysis. The Coros app can analyze workout metrics and offer technique feedback, and the watch is waterproof down to 50 feet. The battery takes about two hours to get a full charge, which lasts long enough for multiple workouts.
APPLE WATCH SERIES 4 GPS + CELLULAR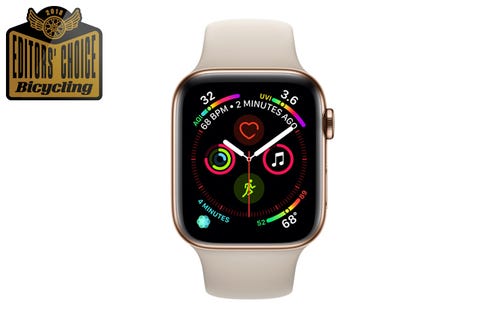 Price: $499
Battery: Up to 18 hours in smart watch mode
Longer battery and larger screen than its predecessor
Apple upped the ante with the Apple Watch 4 with extended battery life and a larger screen that occupies the same real estate on your wrist as its predecessor. With the data plan, you have access to calls and emails without having to carry your phone and to stream music while untethered from a phone—just give Siri a request or simply say, "Play some music." The 4 lacks the more intricate activity tracking functions of some of the pure sport-oriented watches like the Garmin Fenix 5 Plus, but for basic distance, speed, and calorie tracking it's more than capable. You can even set up weekly activity competitions with your friends to add motivation and accountability. Your daily scores are relative to your personal workout goal and expressed in terms of percentage of daily goal, so everyone competes on equal terms. Once you complete your workout, a notification goes out to the rest of your group to let them know you got a jump on them. This is for the Apple fan who wants a device that's more high-tech smart watch and less high-tech sports watch, but can still keep up with workouts.
GARMIN FENIX 5 PLUS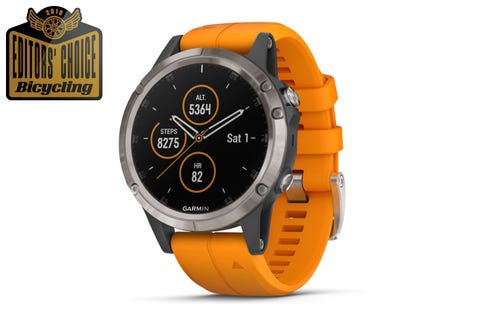 Price: $800
Battery: 12 days in smart watch mode, 8 hrs in GPS mode
ANT+ and Bluetooth enabled to connect to third-party sensors
This watch is packed to the gills with great features for athletes. It has all of the activity, sleep, stress, and heart rate tracking functions that we expect from high-end sport watches these days, and when tethered to your phone can display calls, texts, and any other smartphone notification you want to see on your wrist. The battery life is so long (a claimed 12 days) you can easily forget that it needs to be charged from time to time, even when using the GPS/GLONASS/Galileo. You can stream music from your phone if tethered or untethered via Spotify, and if you desire greater heart rate accuracy than an optical sensor provides, you can connect a Bluetooth or ANT+ chest strap. If you really want to go nuts, you can connect your ANT+ power meter as well. The Fenix 5 Plus is ideal for anyone who wants the freedom to record high-level workout data without always needing a bike computer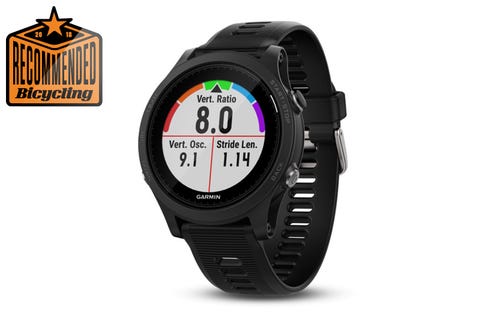 Price: $500
Battery: 2 weeks in smart watch mode, 24 hrs in GPS mode
More training tools than you can ever use right on your wrist
The Garmin Forerunner 935 is the highest-end Forerunner available. It reads heart rate through an optical sensor, has a built-in barometer and altimeter, and features that measure running, cycling, and swimming. It will also evaluate your training effort (in the form of a stress score) after every recorded activity and recommend how to proceed with training. One of our test editors wore this watch during every ride and run he did over the past month and was impressed with the GPS accuracy and battery life—two weeks in watch mode and up to 24 hours in GPS mode, according to Garmin.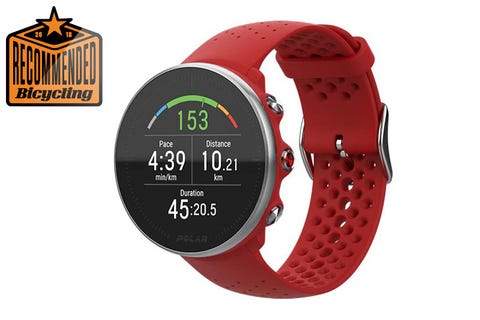 Featherweight and heavy data
Price: $280
Battery: 30 hrs in GPS mode
At 44 grams, this is one of the lightest full-featured smart watches available. There are pages of features, but the important ones are: optical wrist heart rate sensor with continuous tracking, activity tracking, sleep tracking, Bluetooth sensor support, multisport mode and swimming metrics, and GPS. Smartphone notifications are supposed to come in a firmware update in early 2019. Of particular interest to cyclists, the Vantage M's optical heart rate sensor incorporates a skin-contact sensor to mitigate imprecise measurements, though Polar reps say a chest strap still provides the most precise heart rate information. The only major feature not included that data-savvy cyclists may miss: It does not have a barometric altimeter. As with other Polar devices, the Vantage M offers extensive training and recovery information and metrics, both in the watch and through Polar's Flow service. We wish the screen looked as bright and sharp as it does in Polar's pictures, but in real life it's a bit dim. However, the Vantage is reasonably easy to set up and use, something that has been a knock against previous Polar devices.
A true love for sports