RULE NUMBER ONE: Don't touch people, most contaminations start with a handshake, wear gloves.
RULE NUMBER TWO: When sneeze, don't sneeze in the air or in your hands. Sneeze in your elbow (clothing) this is much saver. NB. Even in your elbow the virus could survive for hours, so change regularly.
RULE NUMBER THREE: Stay in good physical condition and keep running / exercising. People with a poor condition will be contaminated a lot faster, like older people. With a healthy condition you will outrun Corona a lot easier.
RULE NUMBER FOUR: Facemasks aren't very helpful, just stay away from crowded places. Don't go to big supermarkets but go to the small grocery store around the corner, and they will be very happy seeing a new face.
A coronavirus outbreak that started in Wuhan, China, has killed over 2,700 people and infected more than 80,000.
The disease has spread to at least 37 other countries:
The coronavirus family is a large group of viruses that typically affect the respiratory tract. They can cause the common cold, pneumonia, and severe acute respiratory syndrome (SARS), which resulted in 8,000 cases and 774 deaths in China from November 2002 to July 2003. Authorities suspect this new coronavirus jumped from animals to people at a seafood market, then humans started transmitting the virus to one other.
More than 70 airlines have canceled flights to China in response to the outbreak, and many countries have imposed travel restrictions on flights to and from China.
"Travel spreads this kind of virus like wildfire," Adrian Hyzler, the chief medical officer at Healix International, which offers risk-management solutions for global travelers, told Business Insider.
Here's how to stay safe while flying.
---
The virus started to spread across Asia before it reached the US and Europe.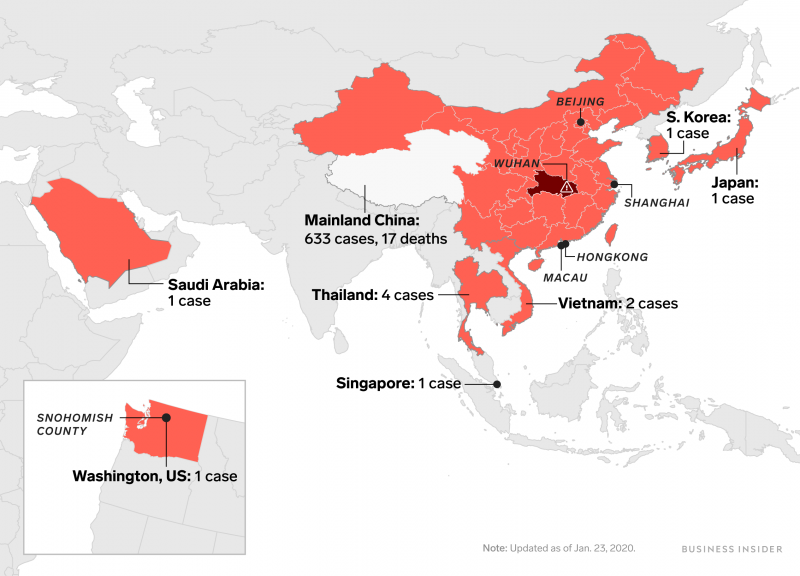 As of February 25, South Korea has 977 cases, Japan has 190, and Singapore has 90. Outside of Asia, Italy and Iran have the most cases: 283 and 95 respectively, followed by the US with 53 cases and Germany with 16 cases. Italy has placed 12 towns in the northern provinces of Lombardy and Veneto under lockdown to contain the outbreak.
---
Travelers should avoid close contact with people who are sick — particularly those with cold symptoms.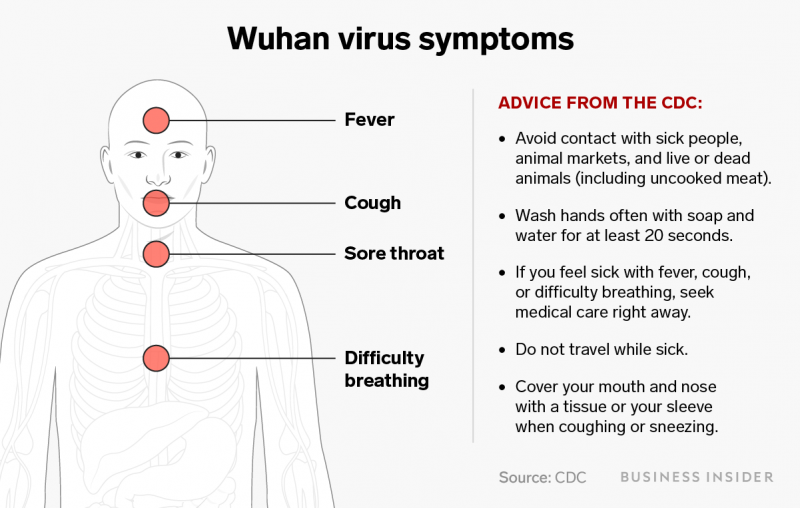 People who contracted the Wuhan virus have reported symptoms including a fever, chills, headaches, difficulty breathing, and a sore throat.
Travelers should try to avoid contact with people who display symptoms similar to those of pneumonia or the common cold, such as coughing or runny noses.
---
Travelers should wash their hands frequently with soap and water, making sure to scrub for at least 20 seconds, the CDC says. Avoid touching the eyes, nose, or mouth with unwashed hands.
There are no vaccines to protect humans from contracting a coronavirus.
"There is no cure for this virus," Hyzler said.
---
Wearing a mask isn't particularly helpful, according to Eric Toner, a senior scientist at Johns Hopkins University.
Many people in China have purchased face masks, which have reportedly sold out at some stores.
"There's little harm in it," Toner told Business Insider. "But wearing masks, except in the situation of a healthcare provider, has never been shown to be a very effective way to protect yourself from infectious diseases."
---
Travelers in any part of the world should steer clear of markets that sell live animals.
Scientists think the outbreak might have started at a Wuhan seafood market where live animals were sold. So far, evidence suggests it likely spread from bats to a mammal – potentially pigs or civets – before jumping to people. A direct hop from bats is also possible.
The virus that caused SARS originated in Chinese horseshoe bats.
"Ever since SARS, there have been calls for improving or closing down the live-animal markets in China," Toner said. "There's an awful lot we don't yet know, but it is fair to say that live-animal markets are a threat not just to the people who work in them, but to public health more generally."
China announced Monday that it will permanently ban the trade of live animals.
---
Several countries, including the US, have evacuated citizens and employees from China.
All of Wuhan's public transportation – including buses, metros, ferries, and trains – were shut down on January 23. Trains and airplanes coming in and out of the city were halted and roadblocks were installed to keep taxis and private cars from exiting.
Wuhan's 11 million residents have been told not to leave the city, barring special circumstances.
The US government has evacuated over 800 citizens and lawful permanent residents from Wuhan, all of whom have been placed under a mandatory two-week quarantine at US military bases.
Many other countries – including Australia, France, India, Indonesia, Italy, Japan, Malaysia, South Korea, Turkey, and the UK – have evacuated citizens from the Hubei province as well.
---
Hotel giants such as Hilton and Wyndham have temporarily closed branches in China.
Wyndham has closed over 1,000 hotels in China – about 70% of its branches in the country -and Hilton has shuttered 150, making up more than 60% of the chain's China hotels.
---
Tourist attractions throughout China have also closed.
Shanghai Disneyland closed on January 25 without saying when it would reopen. The announcement came at a time of peak spending at the park, which has said it will refund tickets.
The Badaling section of the Great Wall of China temporarily closed as well.
---
The CDC is warning US travelers against visiting five countries affected by the virus.
---
Twenty US airports are screening passengers for the virus.
The airports include New York's John F. Kennedy International Airport, Los Angeles International Airport, and Chicago O'Hare International Airport. Airports in Hong Kong, Singapore, Japan, and South Korea, among other countries, are also screening passengers for fever.
"Screening is a very imperfect tool, but it's the only tool we have to try and prevent the importation of a disease," Toner said.
---
If you do become ill after traveling to or within China, report your symptoms to a health authority right away.
Toner said people who have been ill and visited China recently should tell a doctor about their travel history.
"I think they're doing the right things," Toner said of the Chinese government's response. "They are screening for patients or passengers that are coming in. They are trying to educate them to make sure they get care. They're trying to isolate them as soon as they start getting sick. These are the things that prevent a transmission."
A true love for health